Dark Sun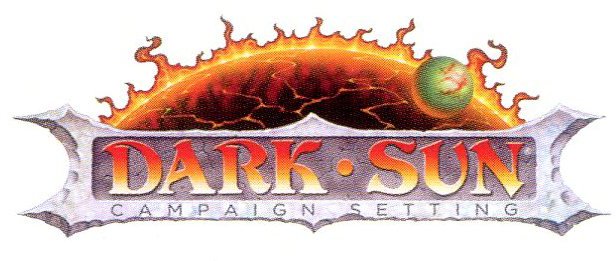 Le monde de Dark Sun a connu un apocalypse non pas nucléaire, mais arcane. Les terres se sont asséchées, les métaux se sont dégradés, les civilsations se sont écroulées. Ceux qui survivent encore se retrouvent dans un monde dur, coincés entre les cités-états gouvernées par les sorciers-rois et le désert, peuplé de maraudeurs sanguinaires.
The themes of this setting could fit in the Dying Earth subgenre and include survival against the elements, ecological disaster, resource depletion, survival of the fittest, slavery and poverty, and the widespread use of psionic abilities. The political setting is similar to ancient Middle East, North Africa or Mesopotamia. Water and metals are extremely scarce. Survival against the elements has made it a harsh exotic world. -wikipedia
Système
: D&D4E
GM
: Louis-Philippe (ou autre volontaire)
Partie proposée
: Micro-campagne de trois soirées. Le GM s'engage à fournir des personnages prégénérés à ceux qui le voudrait.
Site Dark Sun de Wizards of the Coast
Dark Sun selon wikipedia
Intéressés par une microcampagne Dark Sun?
darksun
Here is a place for your title Click me to edit ! false
Décompte des personnages
[Striker] Ntombi Chat Sauvage, razorclaw centered breath monk (Mistral)
[Controller] Roshka Gibeater, gnoll predator druid (Charles)
[Striker] Krrshh tktk, thri-kreen red scales assassin (David-E)
[Defender] Grodur Mur'Debrick, dwarf resilient battlemind (Simon)
[Leader] Kayala Keniji, half-elf valorous bard (Catherine)
page revision: 34, last edited: 02 Feb 2011 19:29